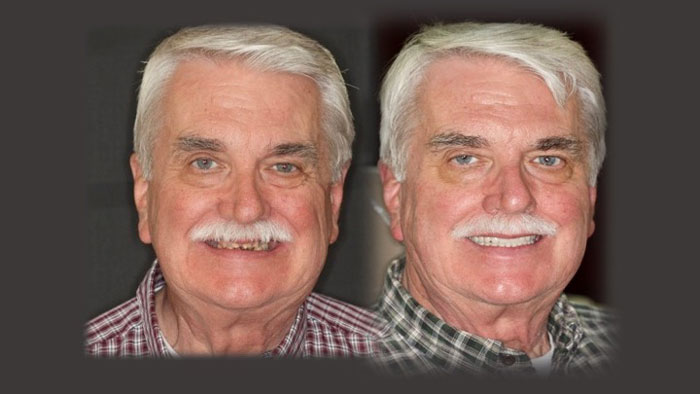 A beautiful smile doesn't only indicate healthy teeth and gums! It also boosts your self-confidence and helps you feel better about yourself. We invite you to explore Scott Ellard Dentistry's smile gallery to see some of the results our skilled dentist in Portage, Michigan, has accomplished. To learn more about our dental services and schedule your consultation with Dr. Scott Ellard, please call us today at 269-329-1880. We are eager to help you enhance your smile!
Laverle: Dental Implants
Laverle's fear that she had waited too long kept her from getting her smile fixed. Her smile solution was accomplished using a variety of dental treatments. Laverle had dental implants to replace missing teeth and porcelain veneers to correct stained, broken or chipped teeth. Horizontal/vertical correction, bone contouring and porcelain restorations were also performed. She asks that we tell you, "It changed my life!"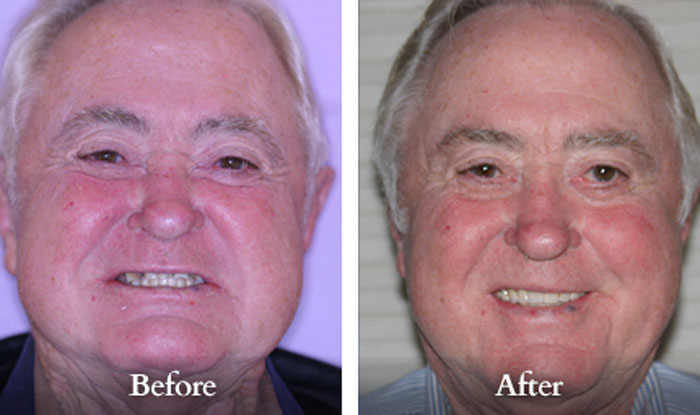 John: Dentures/Vertical Correction
Remove 10 years from your face!
Do you wear dentures or partials? If they are worn down or do not fit properly it can look as if your face is collapsing; like your chin is moving toward your nose. In John's case, he had recently had extensive dental work. However, because he was not restored to the proper dimensions, it did not last. He can now chew easily and smile with confidence. The differences are obvious and can erase years from your face.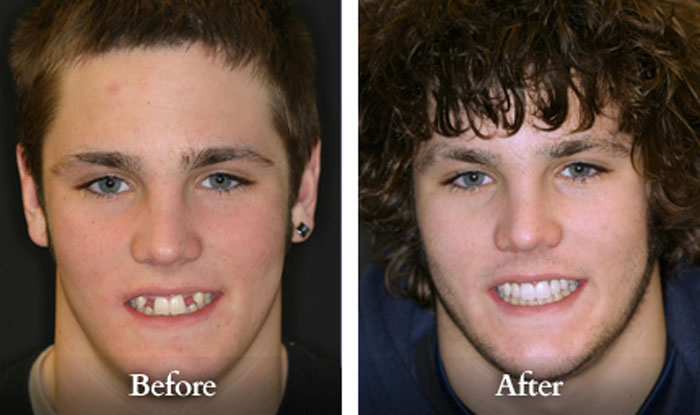 Kristopher: Replacing Missing Teeth
Missing teeth happen for several reasons. In Kris' case, he was born without two of his permanent front teeth. Two dental implants were placed and custom abutments were fabricated to fit the implants. After healing porcelain crowns were made to match his smile. These materials give a life-like restorative result, a nice natural smile.
Kris had custom teeth whitening and his new crowns were made to match his new smile. Dental implants have become a great option for replacing teeth whether you are missing one, several or all of your teeth.
Vicky: Porcelain Veneers and Crowns
Vicky was not happy with her uneven teeth and with the color of her smile. Her chief goals were to straighten and whiten her smile. When teeth are up and down and several different lengths you might hear your dentist refer to 'horizontal dimension'.
In Vicky's case, orthodontia could have corrected some of the variation, however the restorative work would still have been necessary. So, we did it all at once, instant orthodontics and reconstruction. Vicky's smile was created with porcelain veneers that were shaped to give her a new and natural smile with straight teeth. Some of her broken teeth were restored with porcelain crowns.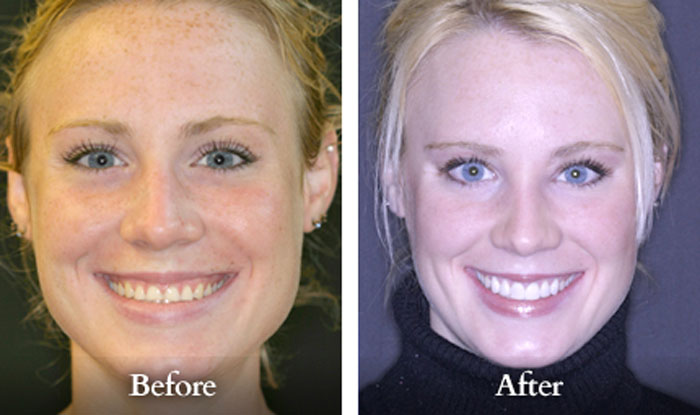 Angie: Porcelain Veneers
Porcelain veneers are frequently an option for chipped, stained or cracked teeth. Angie's teeth were worn down and with her veneers they are now bigger and appear more natural.